Drawings without the guesswork.
Hilscher-Clarke has built a reputation as the regional leader in electrical engineering services through our combination of industry expertise and attention to detail.
We provide professional electrical engineering services for all types of construction in industrial, commercial and institutional markets, including:
Substations
Electrical distribution
Power design
Interior and exterior lighting
Fully coordinated electrical specifications
ASHRAE calculations
Our engineering team provides comprehensive prints for every job, ensuring contractors will have everything they need to execute your project. No gray areas. No guesswork.
Full list of engineering services:
Engineering site surveys
Electrical specifications
Electrical installation cost management
Electrical budgets
Design of the following systems:


Substations
Interior and exterior lighting
Power distribution
Power quality
Efficient and effective power utilization
Data, voice and video systems
Fiber optic systems
Fire alarm systems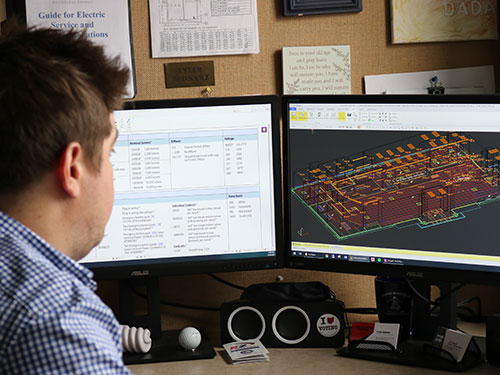 BEGIN AT THE BEGINNING.
Expertise and experience bring you value, but nothing matters more to us than personal and professional values. At our core, Hilscher-Clarke lives to do "FIRST THINGS FIRST":
Faith
Historical ROOT, Current FOUNDATION, Future COMPASS.
Integrity
Doing the right thing.
Respect
Humble consideration.
Selfless
Eliminating self preservation.
Team
Sharing strengths to achieve common goals.
Whatever your project and however we work together, you will experience core values that define who we are and how we conduct ourselves — today and every day.
Request

a Quote

All Fields Required