The most industrious approach
to Industrial Projects.
And enough juice in reserve to drive success.
Think of us as part of your engineering staff.
Bring on the big ones, the complex ones, the ones in the toughest environments. Hilscher-Clarke industrial electrical contractors welcome large-scale electrical engineering projects that test our mettle.
Our industrial electrical contractors have been tested and they've passed, over and over again, with results that are on time, at budget and up to code. Proven performance comes from experience, combined with the kind of integrity that makes our team of industrial electrical contractors a trusted extension of your engineering team.
We're with you from start to finish, employing a team approach to project management that smoothly and deftly defies complications — no matter whether it's handling many vendors, many more electricians and all the moving parts at the most complex and expansive job sites.
Meet your Hilscher Team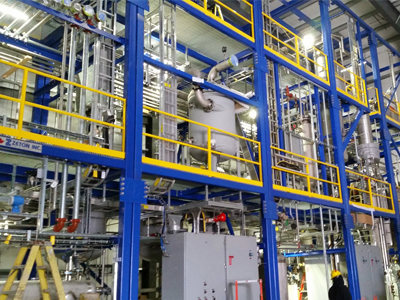 HC brings the hp — and with handling to spare.
Hilscher-Clarke industrial electrical contractors serve you best by delivering the perfect balance. Plenty of horsepower plus an abundance of responsiveness. You get strength and experience tempered with safety and integrity.
---
We have a history of proven performance in all categories of industrial projects:
Food Processing Facilities
Industrial Chemical Facilities
Industrial Manufacturers
Oil And Gas Midstream
Petroleum Refineries
Steelmaking Facilities
Titanium Facilities
More
---
Hilscher-Clarke capabilities include specialized- and medium-voltage testing, so you can be confident that the power you're getting is delivered both safely and efficiently.
Here's the list of our other comprehensive industrial services:
Bus duct installation
DC installation
Dense phase conveying (sand and graphite black)
Dilute phase conveying (PVC pellets, gelatin, sugar and flour)
Fire alarm systems (design and installation)
Generators (design and installation)
Hazardous classified location electrical systems (class 1 and class 2)
Heat trace (design and installation)
High voltage - design, installation and maintenance up to 138KV
Industrial maintenance
Instrumentation and control
Intrinsically safe wiring systems
Lighting control and power wiring
Machine relocation and installation
Material handling conveyors (roller, belt and drag chain)
Motor controls and installation
Overhead pole line construction and service
Parking lot lighting - design and installation
Plant lighting upgrades
Pole base installation
Trenching and underground electrical installations
More
View Our Portfolio of Projects
BEGIN AT THE BEGINNING.
Expertise and experience bring you value, but nothing matters more to us than personal and professional values. At our core, Hilscher-Clarke lives to do "FIRST THINGS FIRST":
Faith
Historical ROOT, Current FOUNDATION, Future COMPASS.
Integrity
Doing the right thing.
Respect
Humble consideration.
Selfless
Eliminating self preservation.
Team
Sharing strengths to achieve common goals.
Whatever your project and however we work together, you will experience core values that define who we are and how we conduct ourselves — today and every day.
Request

a Quote

All Fields Required