Expert service for any job, available 24/7
What's harder than finding a dependable commercial electrician? Finding professional, versatile electrical maintenance and repair services when you need it most.
At Hilscher-Clarke, we understand how critical a disruption to electrical service can be for your business. That's why our experienced team of commercial electricians is always on call to serve you.
We service everything from power outlets, lighting systems and ballasts to circuit breakers, transformers and beyond. It doesn't matter who did the work originally. We're ready to help, day or night, seven days a week.
We've been repairing electrical systems for more than 100 years. In that time, our electricians have seen – and serviced – virtually every electrical problem there is. So when you need maintenance or repair service, we'll quickly dispatch a commercial electrician who can get the job done.
Ensure the steady, uninterrupted flow of electricity to buildings and equipment by keeping your wiring and systems well maintained and in good working order. Trust the experts at Hilscher-Clarke.
Full list of Maintenance/Repair services:
Bucket truck work
Electrical signage
Industrial service and repair
Commercial service and repair
Parking lot lighting - service and repair
Interior lighting - service and repair
Exterior lighting - service and repair
Underground fault locating services
Machine troubleshooting and repair
Small electrical installation projects
Electrical service upgrades
Athletic field lighting service and repairs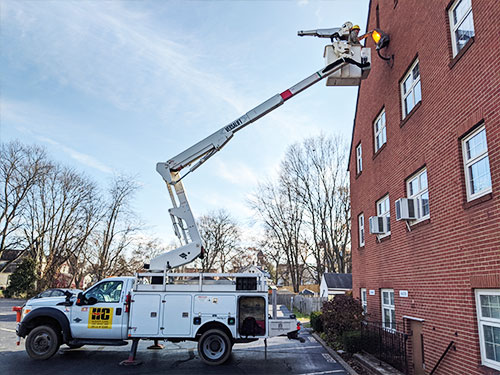 BEGIN AT THE BEGINNING.
Expertise and experience bring you value, but nothing matters more to us than personal and professional values. At our core, Hilscher-Clarke lives to do "FIRST THINGS FIRST":
Faith
Historical ROOT, Current FOUNDATION, Future COMPASS.
Integrity
Doing the right thing.
Respect
Humble consideration.
Selfless
Eliminating self preservation.
Team
Sharing strengths to achieve common goals.
Whatever your project and however we work together, you will experience core values that define who we are and how we conduct ourselves — today and every day.
Request

a Quote

All Fields Required